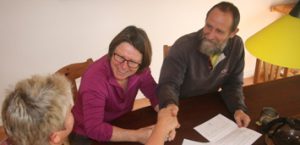 Country Mile Home Care has now been operating in Western Australia for four months and as I have travelled around the remote regions I have come across so many people who really needed the service and were very grateful that Country Mile was there for them when no other service provider would bother to travel the distance. Much is being talked about Telehealth, robots to engage people with dementia and other technology to substitute real care and social support.
Below I would like to share an email I have received from an industry coordinator recently, who works with carers who look after an older or disabled person at home. I'm very proud to say that I have received a few other feedback comments from clients and I am confident that no technology can replace empathy, care, a positive, encouraging attitude and reliable service!
"Hi Ann,
I meant to send this before the holidays but forgot!
I was talking to the client in (…) at our (…) carer Christmas lunch and she was raving how wonderful you were with John and providing respite.
She, by her own admission, is stubborn and I have been working for a long time to get her agree to supports and to give her son a break.
It worked well for both of them and I certainly hope that now she knows how easy it is to organize and CRCC can assist that she will take the offer up more often. My concerns are for their son too, who has taken on a big job with the both of them.
We meet again in February to recommence our monthly carer support group meetings so I will be bringing this example up with everyone to remind them it can be done!
Thank you for your wonderful service and I hope it goes well enough that you can continue. I will continue to spread the word as I travel around the Great Southern region and encourage carers to take it up
Look forward to meeting if ever you get to … "