Since April 2017 Country Mile Home Care is an Approved Provider for Home Care Packages (HCP Level 1-4) and able to deliver ongoing, regular in home care for clients who have been assessed by the ACAT team and have received their letter of eligibility and a client code.
I have received many inquiries and requests for the provision of a Home Care Package, but in many instances wasn't able to provide the care requested, because consumers are widely understanding that in-home care has to be in the form of the traditional model.                                                                                                                                                                 With "traditional" I describe the "3 x  30 mins showers per week" approach, that is the most common form of delivery by an overwhelming majority of in home care providers. Most consumers, their families and carers are in need of, and are happy with, regular short periods of care services to assist with personal care, medications, domestic tasks etc.
But what about those consumers who would like to have regular, but longer hours of care, such as a regular social outing or a meeting that takes them away from their home? This could be a visit to a family member, a stay in a hotel or caravan park, or plainly to replace their carer if they are away. Other people might need a regular trip to the hospital in the metro area, which could include long travel hours and an overnight stay away from their rural location.
Country Mile Home Care encourages all people on a home care package, but also palliative or people with disabilities, to use their funding to best assist with their care needs. We offer full day visits , overnight care and 24 hr live-in care on a regular, ongoing basis, during which we assist with all forms of personal care, medications administration, domestic tasks, meal preparation, shopping and also travel to GP or specialist appointments, social outings or long distance travel.
Country Mile Home Care is in the unique situation of having care workers placed in various locations in rural and remote Western Australia, and all of us are prepared to travel long distances to the homes of our clients to provide individualised, professional care services "outside the square". We even look after your pets and water the veggie garden while we're there…!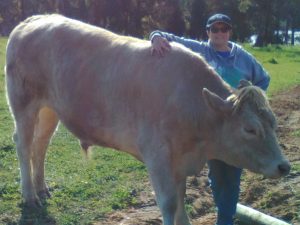 It is due to the distances between our clients and the amount of hours we spend with them, that we are not able to provide short periods of care, such as 30 min or even 2 hour time periods.
Country Mile is also able to subcontract to other Home Care Package providers, which means that clients can use any surplus in their HCP budget from another care provider to have a full day, overnight or 24 hour live-in care period from Country Mile Home Care.                                 So if your package provider does not offer these types of care services, you can ask them to use your funding to have access to us! Under the Consumer Directed Care approach advised by the Federal Government, every client of home care is entitled to use their funding for the type of care or the provider of their choice. Ask your home care package provider about brokering to Country Mile Home Care today!